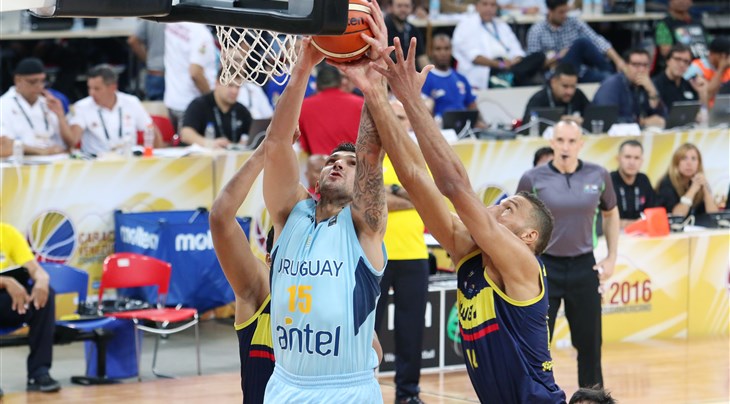 5/5/2017 /
Posted By

FIBA.com
Batista ecstatic about World Cup qualifiers in home country
SAN CRISTOBAL DE LA LAGUNA (FIBA Basketball World Cup 2019) - Uruguay big man Esteban Batista has given a big nod of approval to the new World Cup qualifying format.
A former NBA player that has competed in numerous countries, Batista was in Tenerife over the weekend with Umana Reyer Venezia. He joined the Italian club recently after playing professionally in China.
"I think it's very good for South America, for Latin America, for Europe," he said to FIBA.com, when asked about FIBA's Competition System 2017+.
"Now it's like the qualification for soccer and I think it's more attractive because you're going to play with your people, your home. It's (qualifying campaign) going to be longer and not just one week.
"Now we have more time and it's more fun for the people because we prolong the atmosphere. It's going to be very nice."
The first qualifying window for the national teams will be in November.
The national side takes a backseat to no other team in Uruguay, according to Batista.
"In South America, people are very patriotic," he said. "We know that soccer is the first sport but like now, everyone will have the opportunity to play for the national team at home."
Since the qualification system runs longer, Batista says, fans are going to remain excited about the national side for longer periods.
"When the day arrives, everyone is going to start talking about basketball in South America," he said. "Before, when you have a tournament for seven or 10 days, afterward no one talked about basketball.
"The other 10 or 11 months, no one cared, so this is a great way to prolong attention on the sport and develop basketball."
There is the genuine prospect of Uruguay also making it to basketball's biggest stage.
"Everyone is really excited about the new format of the World Cup," he said.
"Now there is a very good chance to qualify because there are seven spots for the Americas. We need to work very hard and fight. It's going to be difficult as always but there is a better chance, now."
Before the World Cup qualifiers, Batista will feature for Uruguay when they host FIBA AmeriCup Group C with their first game against the Dominican Republic on 28 August.
Recent News