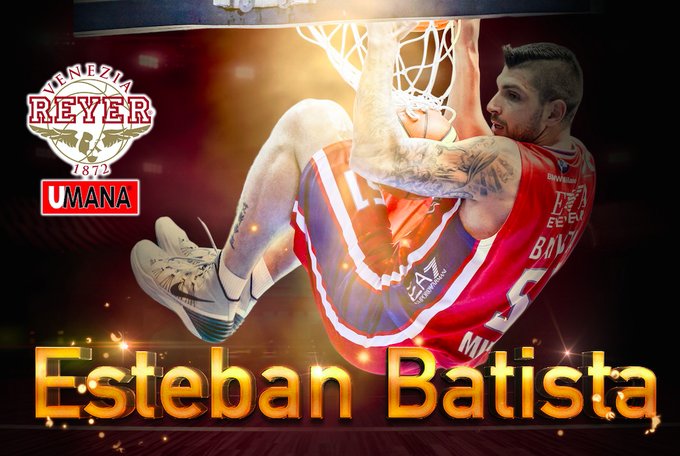 21/2/2017 /
Posted By

EUROBASKET NEWS
Esteban Batista (ex North Control B.) signs at Umana Venezia
Umana Reyer Venezia (Serie A) landed experienced 34-year old Spaniard-Uruguayan power forward Esteban Batista (208-122kg-83, agency: Duran International). He started the season at North Control Beijing in Chinese CBA league. In 36 games he averaged impressive 17.7ppg, 12.7rpg, 2.6apg, 1.5spg and 1.0bpg this season. The last season Batista played at Armani Milano where in 25 Serie A games he had 9.8ppg and 6.4rpg. He helped them to win the league title (twice) (also twice).
Batista represented Spain at the South American Championships in Caracas (Venezuela) last year. His team won Bronze and his stats at that event were 4 games: 11.8ppg, Reb-1 (10.3rpg), 2.0apg, Blocks-3 (1.5bpg), FGP: 42.0%, FT: 35.7%.
Batista is a very experienced player. He has quite traveled the world as his pro career brought him to eight different countries on three different continents (Europe, Latin America and of course North America). Batista has played previously professionally in Argentina (Libertad Sunchales), Chile, Greece (Panathinaikos), Israel (Maccabi Fox Tel-Aviv), Russia (Zenit), Turkey (Anadolu Efes and Pinar Karsiyaka), NBA (Atlanta Hawks and Boston Celtics) and Spain (Baskonia and Baloncesto Fuenlabrada).
His game is described as: A solid inside player who provides a physical presence in the paint. Can spend time in the 4 and 5 positions, is very good even coming off the bench. Has a wide body, he's very strong on the boards and doesn' t fear any opponent. Unlike a lot of physical frontcourt players, he is quite mobile and adept at taking the ball to the basket and drawing contact.
Recent News