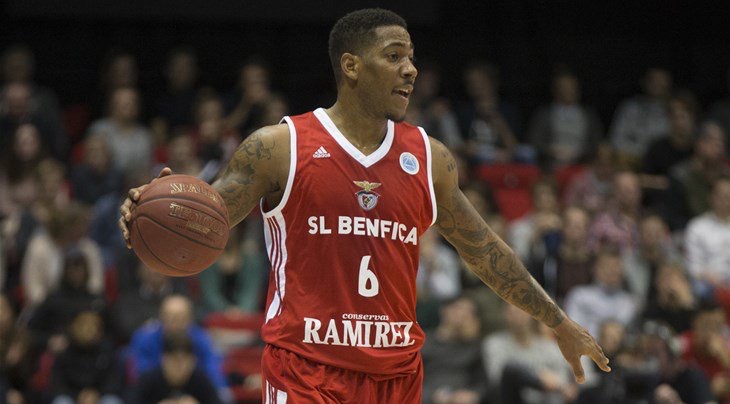 17/10/2017 /
Posted By

FIBA.com
Carlos Morais MVP Supertaça
After reclaiming the Portuguese title last season, SL Benfica got their domestic campaign underway on a positive note, winning the battle for the Super Cup on Thursday.
The 104-74 triumph over CAB Madeira was the team's first trophy under the new head coach Jose Ricardo, who replaced the club's long-time playcaller and local legend Carlos Lisboa as the man in charge during the summer.
One of the team's leaders last year, Angola international Carlos Morais made his presence felt in the victory and claimed the MVP award after collecting 19 points, 10 rebounds and 4 steals.
"I want to continue to bring Benfica my quality and help the team on both ends of the floor, both offensively and defensively," said the 31-year-old shooting guard, who is entering his second season of a two-year deal in Lisbon.
"This year, I found a very motivated group of guys. The tactical system is different, but it suits the players that we already had and the new ones that arrived before the season."
The player did not have much time to rest after his international duties with Angola at FIBA AfroBasket 2017, but says the transition to club basketball was made seamless by his teammates.
"I played in AfroBasket 2017 and it was very physically and mentally exhausting, but with Benfica I found a very close-knit and motivated locker room, so the integration process was easy. That is the main reason we were able to win the way we did," Morais smiled.
"The will to win is very great in this team and if we continue to work like this, in the end it will be all smiles for us."
After falling short on their goal of making it to the Basketball Champions League in Qualification Round 2 against Lukoil Academic, Benfica are set to continue their European journey in the FIBA Europe Cup, where they reached the Second Round last season.
They will play in Group B of the competition alongside the likes of Avtodor Saratov, Bakken Bears and the winner of the FIBA Europe Cup Qualification Round 2 tie between Nevezis Kedainiai and Petrolina AEK.

Recent News